https://arstechnica.com/?p=1394759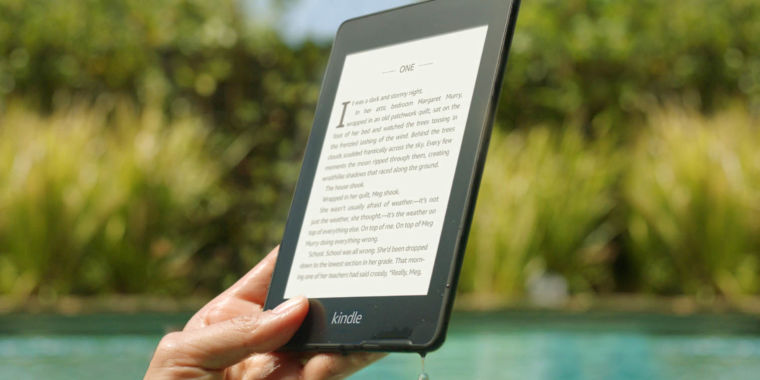 Amazon's new Kindle Paperwhite is now waterproof and has more storage for more e-books.


Amazon

The IPX8 rating lets it withstand dunks in the pool, in the ocean, and other wet places.


Amazon

The 6-inch, 300ppi screen now sits flush with the black bezels.


Amazon

The new Paperwhite is thinner and lighter than the previous version, measuring 8.18mm thick and weighing 6.4 ounces.


Amazon

It also has Audible capabilities, so you can listen to audiobooks by pairing Bluetooth headphones.


Amazon
Amazon updated its best value Kindle with some of the coveted features found in its high-end, $249 Kindle Oasis. The new Kindle Paperwhite announced today has a thinner, lighter design that's now waterproof, making it the first Kindle other than the Oasis to have an IPX8 rating.
Amazon last updated the Kindle Paperwhite in 2015, giving it a better screen without raising its price. Now, the newest Paperwhite appears to be a mix of the old model and the now-defunct Kindle Voyage (the latter disappeared from Amazon's site about a month ago). It has a 6-inch, 300ppi touch display with five backlighting LEDs, and the new screen is now flush with the black bezels around it. It's still a black slab, but now it's just 8.18mm thick and weighs just 6.4 ounces.
The waterproofing means users can read on the beach, in the tub, and around water in general and not worry about the safety of their Kindle. Also like the Oasis, the new Paperwhite has Audible integration so users can pair a Bluetooth headset and listen to audiobooks from the device itself.
This is a convenient feature for avid readers and audiobook listeners, and it will also likely help Amazon's Whispersync business. When a user buys either the Kindle or Audible version of a book, Whispersync lets them buy the accompanying e-book or audiobook at a discounted price. Those who like to go back and forth between the e-book and audiobook version of a story may end up using Whispersync more now that Audible integration is available on a more affordable Kindle.
But the new Paperwhite isn't exactly like the Oasis—the latter has a 7-inch display and a different design, as well as an adaptive light sensor, page-turn buttons, and more color options. Like all Kindles, the new Paperwhite has a battery capable of going weeks at a time between charges.
Amazon also announced some software changes that will be available on the new Paperwhite. The company updated the Kindle homepage to include easier ways to find books you may want to read based on your reading history, as well as stats about your reading habits. Users will also be able to make customized reading settings like font, boldness, and orientation so they can easily switch between reading profiles when necessary.
Amazon dominates the e-book and e-reader market, but it does have new competition in the US from Kobo and Walmart. Incorporating some premium features into the new Paperwhite, Amazon's best-selling Kindle device, only makes it better able to weather the competition from Kobo e-readers like the Clara HD.
The new Kindle Paperwhite is available for preorder today starting at $129 for an 8GB model. Amazon also offers a $159, 32GB model and a $249, 32GB model with included cellular connectivity. The 8GB models will ship starting November 7, with the higher storage models shipping sometime in the coming months.
Listing image by Amazon
via Ars Technica https://arstechnica.com
October 16, 2018 at 09:35AM