NVIDIA Rolls Their Own Handheld Console: Project Shield, Powered By Tegra 4
Though most of the important launch details of Tegra 4 were leaked weeks in advance, NVIDIA did manage to keep their final major CES announcement under wraps to the very end. Wrapping up their CES presentation, NVIDIA has announced that they will be entering into the handheld console business with their own Tegra 4 powered console, dubbed Project Shield.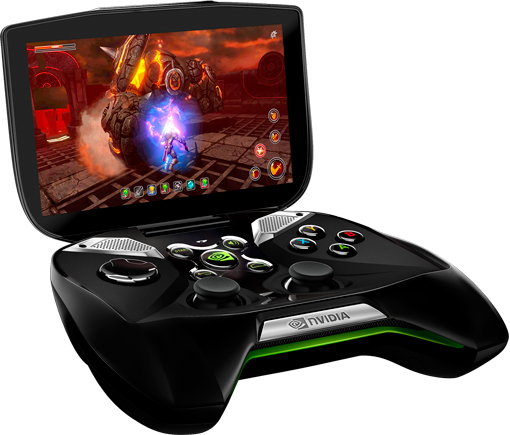 While we're still waiting on NVIDIA for further details, what we do know so far is that Project Shield is essentially a handheld console built around NVIDIA's recently announced Tegra 4 SoC. Details on Tegra 4 are still sparse since NVIDIA has not announced the individual SKUs, but we do know that the top-end configuration contains 5 ARM A15 CPU cores in a 4+1 configuration similar to Tegra 3, and on the GPU side is backed with a hereto unknown GPU architecture composed of 72 GPU cores.
All of this is built into an oversized game controller that is configured very similarly to the PS3 DualShock 3 controller, possessing 2 concave thumbsticks, a 360-like D-pad , 4 face buttons, and 4 shoulder triggers/buttons (2 on each side). Topping off the console is a 5" 720p multitouch display (no word yet on whether it's OLED or LCD) that flips over the console in a clamshell fashion. Meanwhile powering the device will be 38 watt-hours of Lithium-Ion battery cells; this is roughly between the Nexus 10 (33.75Wh) and the iPad 3/4 (42.5Wh), meaning Shield will have what amounts to a tablet-capacity battery.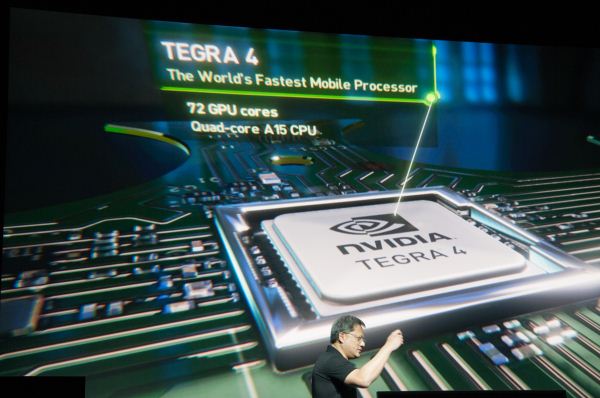 Backing that hardware, storage is provided by a combination of internal and external storage; external storage is provided by a micro-SD card slot found on the back side of the handheld. Also found on the back side of the handheld are a number of other ports: micro-HDMI for display output (4K resolution supported!), micro-USB for data connectivity, and a standard 3.5" audio jack for headphones. Wireless connectivity is also available, with WiFi for data and Miracast plus additional formats for video output.
On the software side of things Project Shield is running what NVIDIA is calling "pure Android", which in this case is presumably a reference to them not doing any skinning/customizations, ala MotoBlur, TouchWiz, and other OEM customizations. This means that Project Shield is capable of running standard applications (something NVIDIA made sure to demo) and is otherwise usable as a standard Android device. Meanwhile NVIDIA's Shield application is where gaming takes place, effectively launching users into NVIDIA's own sandbox, where gamers can pick up Shield-optimized games from the TegraZone store and then run them on the device.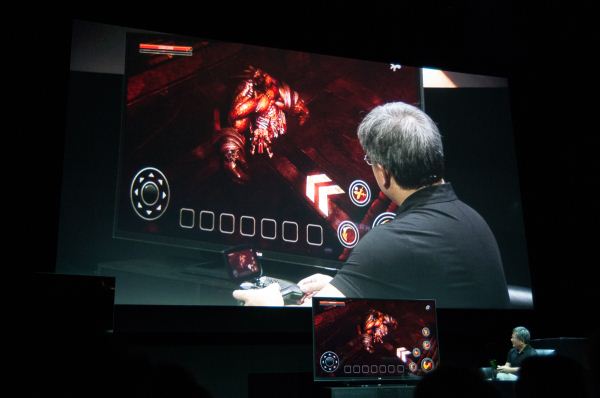 Finally, on the software side of things NVIDIA is also going to be offering a level of integration between Project Shield and their GeForce products by offering their own Splashtop-like remote gaming experience. By leveraging the Video Codec Engine video encoder inside their recent GTX 600 video cards, Project Shield devices will be able to connect to PCs to do remote gaming. To show this off NVIDIA showed a GTX 680 equipped PC running Steam in Big Picture mode being streamed to Shield, the logical pairing to Project Shield's dual nature as a portable computing device and a controller. Shield will of course also be able to function as an endpoint for any cloud game service providers using NVIDIA's GeForce GRID technology.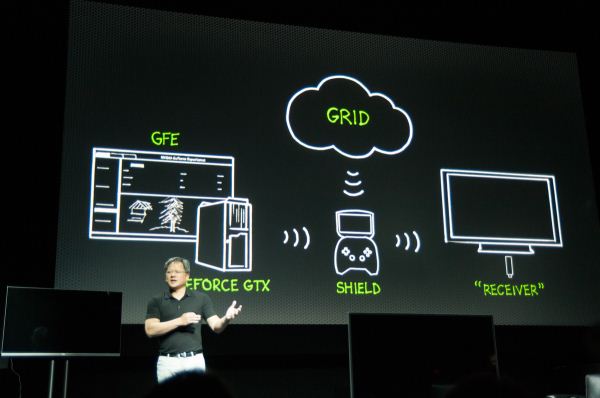 Edit: At this point NVIDIA has not announced hard pricing or availability, but we have been given guidance that "Shield will launch in Q2 at a price competitive with other mobile gaming systems and tablets." Since the critical component here is Tegra 4, the Q2 projection for Project Shield's availability most likely hinges on when exactly T4 will become available this year.
Handheld Specification Comparison
 
Project Shield
Sony PS Vita
Nintendo 3DS XL
Google Nexus 7
Apple iPad mini
Display
5-inch 1280 x 720
5-inch 960 x 544 OLED
4.9-inch 800 x 240 + 4.2-inch 320×240 TN
7″ 1280 x 800 IPS
7.85-inch 1024 x 768 IPS
CPU
NVIDIA Tegra 4 (4+1 Cortex A15)

4 x Cortex A9

2 x ARM11

1.3 GHz NVIDIA Tegra 3 (T30L – 4 x Cortex A9)
1GHz Apple A5 (2 x Cortex A9)
GPU
NVIDIA Tegra 4 (72 GPU cores)
PowerVR SGX543MP4
PICA 200
NVIDIA Tegra 3 (T30L)
PowerVR SGX543MP2
Connectivity
WiFi, HDMI, USB
WiFi, USB
WiFi
WiFi , USB
WiFi, Lightning
Memory
N/A
512MB + 128MB
128MB + 6MB
1GB
512MB
Storage
N/A + Micro-SD
Proprietary
2GB + Micro-SD
16GB
16GB
Battery
38Wh
8.2Wh
6.5Wh
16Wh
16.3Wh
Starting Price
N/A
$249
$199
$199
$329
 
from AnandTech