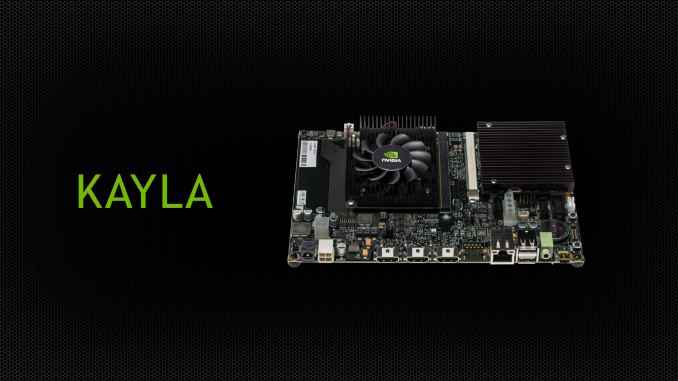 In this morning's GTC 2013 keynote, one of the items briefly mentioned by NVIDIA CEO Jen-Hsun Huang was Kayla, an NVIDIA project combining a Tegra 3 processor and an unnamed GPU on a mini-ITX like board. While NVIDIA is still withholding some of the details of Kayla, we finally have some more details on just what Kayla is for.
The long and short of matters is that Kayla will be an early development platform for running CUDA on ARM. NVIDIA's first CUDA-capable ARM SoC will not arrive until 2014 with Logan, but NVIDIA wants to get developers started early. By creating a separate development platform this will give interested developers a chance to take an early look at CUDA on ARM in preparation for Logan and other NVIDIA products using ARM CPUs, and start developing their wares now.
As it stands Kayla is a platform whose specifications are set by NVIDIA, with ARM PC providers building the final systems. The CPU is a Tegra 3 processor – picked for its PCI-Express bus needed to attach a dGPU – while the GPU is a Kepler family GPU that NVIDIA is declining to name at this time. Given the goals of the platform and NVIDIA's refusal to name the GPU, we suspect this is a new ultra low end 1 SMX (192 CUDA core) Kepler GPU, but this is merely speculation on our part. There will be 2GB of RAM for the Tegra 3, while the GPU will come with a further 1GB for itself.
Update: PCGamesHardware has a picture of a slide from a GTC session listing Kayla's GPU as having 2 SMXes. It's definitely not GK107, so perhaps a GK107 refresh?
The Kayla board being displayed today is one configuration, utilizing an MXM slot to attach the dGPU to the platform. Other vendors will be going with PCIe, using mini-ITX boards. The platform on the whole is in the 10s of watts – but of course NVIDIA is quick to point out that Logan itself will be an order of magnitude less, thanks in part to the advantages conferred by being an SoC.
NVIDIA was quick to note that Kayla is a development platform for ARM on CUDA as opposed to calling it a development platform for Logan; though at the same it unquestionably serves as a sneak-peak for Logan. This is in big part due to the fact that the CPU will not match what's on Logan – Tegra 4 already is beyond Tegra 3 with its A15 CPU cores – and it's unlikely that the GPU is an exact match either. Hence the focus on early developers, who are going to be more interested in making it work than the specific performance the platform provides.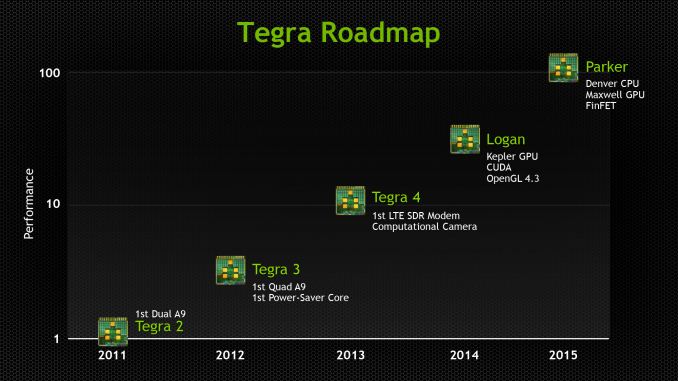 It's interesting to note that NVIDIA is not only touting Kayla's CUDA capabilities, but also the platform's OpenGL 4.3 capabilities. Because Kayla and Logan are Kepler based, the GPU will be well ahead of OpenGL ES 3.0 with regards to functionality. Tessellation, compute shaders, and geometry shaders are present in OpenGL 4.3, among other things, reflecting the fact that OpenGL ES is a far more limited API than full OpenGL. This means that NVIDIA is shooting right past OpenGL ES 3.0, going from OpenGL ES 2.0 with Tegra 4 to OpenGL 4.3 with Logan/Kayla. This may also mean NVIDIA intends to use OpenGL 4.3 as a competitive advantage with Logan, attracting developers and users looking for a more feature-filled SoC than what current OpenGL ES 3.0 SoCs are slated to provide.
Wrapping things up, Kayla will be made available in the spring of this year. NVIDIA isn't releasing any further details on the platform, but interested developers can go sign up to receive updates over at NVIDIA's Developer Zone webpage.
On a lighter note, for anyone playing NVIDIA codename bingo, we've figured out why the platform is called Kayla. Jen-Hsun called Kayla "Logan's girlfriend", and it turns out he was being literal. So in keeping with their SoC naming this is another superhero-related name.
from AnandTech