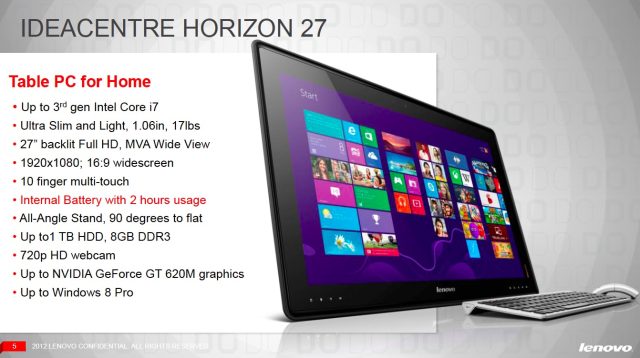 Lenovo's IdeaCentre Horizon 27
Lenovo
Lenovo is just one of the many PC makers bringing new designs to CES this week. Many of these will simply be refreshed or refined versions of the first round of Windows 8 computers—either convertible laptops or more traditional desktops and laptops with integrated touchscreens—but a few particularly interesting designs may yet rise above that fray.
One of these PCs is Lenovo's IdeaCentre Horizon 27, a 27-inch all-in-one desktop PC with an integrated battery and 1080p ten-point touchscreen. Lenovo is marketing the device as a "table PC." Sure, a kickstand can be unfolded to allow the computer to sit on a desk as would any all-in-one. But this PC can also be laid flat on a table for use by multiple people, or mounted on the pictured roller table for use while standing. (We've previously stated a touchscreen all-in-one makes the most sense ergonomically while positioned at about waist height on a standing person.)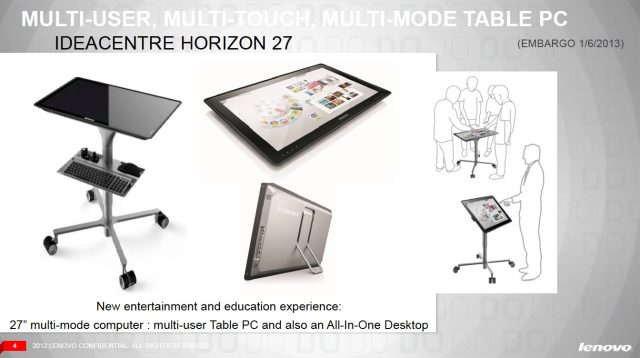 Enlarge
/ A roller table will change the Horizon into a standing workstation, when needed.
Lenovo
In concept the Horizon is quite similar to Sony's Tap 20, a smaller all-in-one that also included an integrated battery and foldable kickstand allowing it to be laid flat on a table. The Horizon's larger size will mean more people can gather around it at once (and the roller table may make it more useful for people who prefer to stand at their desks), but the two machines are definitely cut from the same cloth. Like the Tap 20, multiplayer touch-enabled games figure heavily into Lenovo's promotional material for the device.
Read 1 remaining paragraphs | Comments
from Ars Technica