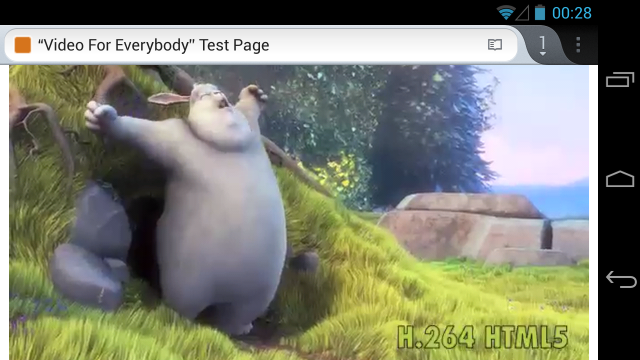 H.264 Big Buck Bunny in Firefox on Android 4.2.1.
The Firefox browser is now shipping with support for HTML5 videos compressed with the H.264 codec to users of Android 4.1 (Jelly Bean) and Samsung phones with Android 4.0 (Ice Cream Sandwich).
This is the first time the open source browser has supported the widely used video codec. Firefox's developer, Mozilla, was reluctant to support H.264 because the open standard was not available on a royalty free basis; implementers of decoders have to pay for a license to use the various patents that cover H.264. Instead, the group hoped the Google-owned VP8 codec would suffice; a hope buoyed by Google's announcement that Chrome would drop its support for H.264 and concentrate on VP8.
Google never did remove H.264 from Chrome—the browser supports it to this day—and a substantial fraction, possibly 80 percent or more, of HTML5 video on the Web uses the H.264 codec. The growth of mobile platforms made the demand for H.264 support even more acute: hardware acceleration of H.264 decompression is all but universal on mobile devices and taking advantage of this hardware support is essential for providing acceptable battery life.
Read 3 remaining paragraphs | Comments
from Ars Technica